So, I've been working on many things and have even finished some things here and there. I thought I'd share some of these wonderful things with you. Enjoy :)
First of all, I should share my
Tardis Dishcloth
This didn't take me very long to do. It's done with Berroco Love It (obviously I used blue).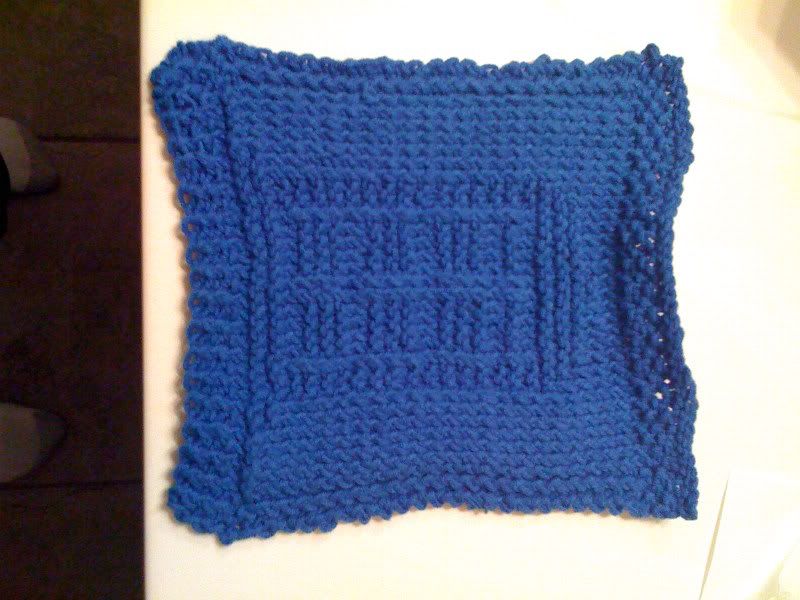 Secondly, I started my first sock. There is no pattern...I just kind of winged it. It will probably end up being way too large for me...but I'll wear them anyway because I made them. It's not finished. I'm past the heel flap so I'm just working on the foot. And then I have a whole other sock to do. I started working on it in June or July.
Thirdly, I'm working on the
Andeal Treasure Shawl
. It was supposed to be a Christmas present for a friend of mine...she just didn't say which Christmas.
Fourthly, I'm working on a sweater. I'm almost finished with it. I started it at the end of September, thinking I'd have it done by the end of October. Yeah, not so much...but, it's almost finished now. I have the front and back done, the sleeves are almost done (I'm doing them at the same time). All I have left to do is sew the front and back together, finish the neckline, and sew up the rest of it. So, this is what the front looks like. Oh, and it's
the Devon Sweater
.
And lastly, I got a bug in my pants to make a hat for myself. I picked out
the London Beanie
. I made it almost to the recipe...and it was way too short. So, I'm going to give it to my friend's daughter for her 2nd birthday (which is tomorrow, actually).